Unsurprising as this may seem, I worked on golf courses for many summers in high school and college. Over those years, I did everything one CAN do on a golf course, short of giving lessons (for money). I drove the range picker tractor (aka "the moving target"). I sold sweaters in pro shops. I was a course marshall (perhaps the dullest job yet invented), whipping and driving herds of slashers around the links.  I was a starter, holding the fate of dozens of golfers in my hands and relishing the power of the PA system. And I worked on the grounds, mowing, raking, digging, building, placing, replacing, loafing occasionally, and racing Cushmans down dew-covered morning fairways.  (Though the Cushmans I drove looked a lot more like the one below than the posh new ones on their current site.  Three-on-the-tree.  Good stuff.  Photo gracelessly lifted from onetimeago.blogspot.com with appreciation.)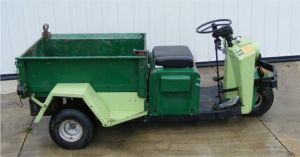 Working on the grounds I found most satisfying. The results of your work were visible immediately, you got to be outside all day (mostly good), a fair bit of it was unsupervised (also good), every day's tasks were a little different, and it was fun to learn how to drive the toys and machines and operate them skilfully with practice.  I learned to drive every imaginable type of vehicle, from three-wheeled sandtrap rakes to dual-axel dumptrucks to skid-steer loaders to the aforementioned three-on-the-tree Cushman turf vehicles. The skid-steer was hands-down my favorite, though many of the riding mowers had some awfully cool hydraulic-y goodness.  Also I might mention as a perk of the grounds crew role I also got to play as much golf as I wanted for free.  Which I may or may not have fully taken advantage of at every course I ever worked at.
After a number of summers' experience working on courses, my black belt in grass shortening got me a job at Hazeltine National Golf Club before the 1991 U.S. Open. Well, my skills and a [cough] rather glowing [cough] letter of recommendation I wrote for myself that my home course superintendent was gracious enough to sign while laughing.
A girl (and some friends with a spare room I could rent) brought me to Minneapolis one summer during college and, knowing the U.S. Open was coming to Hazeltine, and that my best shot at a reasonably well-paid summer job which did not involve hamburgers was working on a golf course, I aimed for the top.  I did have to drive all the way up there for an in-person interview in the spring, but I was in.
Two wrinkles in my Grand Plan emerged. One, for whatever idiotic reason, I thought the U.S. Open was going to be there the following year, not two years later.  As it turns out, two years before a U.S. Open is when all the BIG construction projects happen. Lucky me. I spent the summer digging french drains in hardpan at the bottom of new and rebuilt bunkers (that cluster of bunkers on number 11? Yeah, I was instrumental in the drainage there.)
Second, my friends went to the University of Minnesota, so their apartment was – surprise – in Minneapolis, somewhat near the University of Minnesota. Hazeltine National is actually in Chaska, Minnesota, 30 miles outside the city. Thirty miles each way, every day. Going out wasn't too bad, since it was barely even light out yet, but coming home in the middle of the afternoon could be challenging. I suppose overall it wasn't 9-to-5, so I did miss the bulk of the traffic, but there was enough of it versus what I was used to. On the plus side, the car I was driving (a most excellent chariot, the venerable Chevrolet Chevette) apparently caused the State Trooper who pulled me over one morning at oh-dawn-thirty to pity me and write me my one and only warning (something about me says "no, no, please just give me the ticket.")
Aside from digging drainage tile I did lots of other things. I set pins once in a while (which was too bad because I was quite good at it and enjoyed it, but one chap on the crew pretty much did it every day.) I mowed fairways on big five-reel riding mowers. I mowed roughs around greens on what is called an "out front" mower; this one had multiple horizontally-spinning blades (like a residential mower, only two or three of them) under a giant "deck" attached to a small tractor-like vehicle. I only turtled it once, in a bunker on the 7th hole (the edge of the bunker collapsed under my wheel and the whole thing rolled into the bunker. Neither I nor the mower were damaged, but I thought I was gonna either die or get fired or both.  The outfront I turtled was not a Deere, as pictured below, and it had no fancy "roll cage" thingie sticking up, which is probably a good thing.)  I raked bunkers (a combination of riding the trap rake machine and hand raking sometimes, but usually all hand raking.) I also mowed tees and greens.
I enjoyed mowing greens. At Hazeltine they used walk mowers for greens (and tees, too), which means the mower has a single reel perhaps 22-24″ wide and you walk behind it (hence the name), as opposed to the three-reel riding mowers many courses use (also shown below). You walk back and forth across the very, very large greens in that day's pattern (the direction changed every day, in a rotation, like 12-to-6 one day and 9-to-3 the next, for example) making beautiful, satisfying, and hopefully straight but quite narrow stripes. Then you put the wheels back on and walked the little beast over to the next green, or loaded it on the trailer and drove it if the next green was further away. I seem to recall that three people walk-mowed each morning, but it might have been four. Twenty greens (eighteen plus the practice green and a nursery green) cover a tremendous area and you only have so much time before golfers will be out there using you for target practice. As it was, each person must walk what felt like ten miles (at a pretty rapid clip; those mowers aren't slow) just doing their own four or five greens.
As opposed to other courses I had graced with my grass-shortening-sand-smoothening-drainage-digging skills, Hazeltine did not let grounds employees play whenever they wanted. The rule was we could play any time we wanted, as long as it was after 3pm, and as long as no members were on the first hole. Overall I would guess I played once or twice a week (9 holes) after finishing my duties by 2pm or so, getting in my car, changing into something presentable, and driving around the course to the clubhouse. Once there, I would respectfully nuzzle up to the starter and wait. Usually it wasn't a long wait, but there was a wait. Members generally showed up right about when the previous group of members cleared the first green and my peg was in the ground on the first tee.   The enormous practice green was right next to the first tee, and I spent an inordinate amount of time there practicing while I waited. My short game has never been as sharp as it was that summer any time before or since.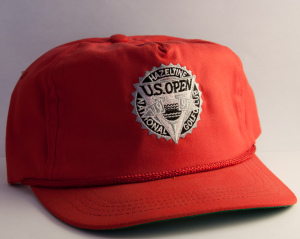 The club itself was (and I presume still is) very focused on golf, and was far enough from the city that it attracted members who were also very focused on golf.  A pair of hardcourt tennis courts were deserted every time I looked at them; there was no pool.  I worked as many hours as I could, booking overtime hours for events when possible, and on weekends after the weekend-shortened routines were done I would check in with the Caddie Master and carry a bag or two.  It appears from their current website they still have caddies, which makes me happy.  (More about my adventures in caddying to come in a future post.)
The summer went by very quickly and I enjoyed being part of the Hazeltine crew.  It was my first real experience with a Championship Golf Course on the scale of Hazeltine.  Everything seems bigger, more daunting, more spread out, on a Championship Course.  Having played a few rounds there (and built bunkers) it was particularly enjoyable to watch Payne Stewart win the U.S. Open there on television.  (And those two guys win PGA's.  And it will be again to watch the Ryder Cup in two years.  It is a spectacular layout for the Ryder Cup.)
And that is the story behind the three Hazeltine National 1991 U.S. Open caps you see (for some reason, I cannot simply buy a single cap if I like it, I must have two or three or six.  Silly, I know, but I like options (and back-ups.)