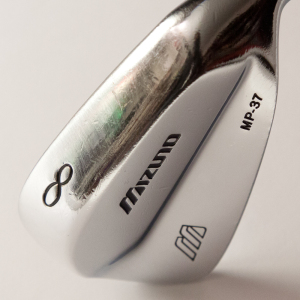 This is the first in a series based on the clubs I currently play, beginning with the irons.
I have hit many, many different types and brands of irons over the years. I prefer blades for many reasons. The purity of the feedback.  The ability to work the ball.  The simple, functional, and (generally) aesthetically pleasing design.  Mainly it's the indescribably satisfying feeling when you hit one well.
The look of most cavity-back irons, and most non-blade irons, does not appeal to me.  The fat top lines.  The offset.  The curiously similar feeling with each shot, no matter where on the clubface contact was made.  The more difficult and less predictable workability.  Let me be clear: this is my personal preference and I am not criticizing these clubs as choices; play whatever you like that makes you happy.
When I decided the time had come for a new set, I looked at all the then-current blade offerings. One sad part of this overly-lengthy tale is that Hogan no longer made a nice, compact player's blade (and then promptly went away altogether in 2008, although the name will be revived in 2015! )  So I looked at Mizuno and Cleveland and Wilson and Titleist and KZG and everyone else who still made something in the blade category. I ended up choosing the Mizuno MP-37 because I had played a couple rounds with some MP-33's years ago and found them very solid (but out of production), and because the Titleist blades for that particular year I didn't find aesthetically pleasing. (I did almost order the KZG ZO blades, which are so puritanically beautiful, but that's a story for my post on club-fitting, so stay tuned.) I ordered the Mizunos to my specs through a local pro.
The Mizuno MP-37 blades, 2-iron through wedge, are in my bag today. I would link you to them on the Mizuno site, but sadly they don't make them any more. Not too sadly, however, as the MP-4 in the current lineup is gorgeous. For the MP-37, you'll have to make do with the glorious photo, above, of my eight iron.
My set of MP-37's is slightly customized based on a fitting I had done through a Wishon club fitter I found on his website after reading his book The Search for the Perfect Golf Club
.
My specs are pretty close to standard: 0.25″ long, standard loft & lie, one wrap oversized grip. Shafts are True Temper's awesome Dynamic Gold Sensicore, X100 flex. Grips are Golf Pride New Decade Multicompound White, mounted label down.
Why did I pick the Mizuno MP-37? We'll get to that, but first some history.
Since I was a lad, I have played Hogan irons. The first golf book I read, and one of the only instructional books I have read, was Ben Hogan's Power Golf
, recommended by my father. With that, I became a huge Hogan fan.
My first full, real set was a new set of Hogan Radials I paid for with my own money. (What I was thinking, looking back, I have no idea. So ugly. Google it if you want to see the horror show.) I traded those in after a few years on a used set of 1978 Hogan Medallions, which had clearly been used by a pretty good player as the sweet spots were little convex circles. I happily played with those for a few years, until a friend of mine sold me a set of Hogan Apex PCs out of the trunk of his car, brand new. I played with those through college, despite the fact that the sweet spots on them was a fraction the size of the Medallions. After college, once I had a real job, I discovered this phenomenal place called The GolfWorks, which did iron rechroming. I used a hole punch, a hammer, and a roll of electrical tape on my garage floor to remove the pins, pulled the heads, and sent them off the The GolfWorks to be rechromed. One of the little bronze Hogan head inserts was missing from the back of one of the clubs, and they even found a replacement for that (like I said, they're amazing), and when the clubs returned they were pristine. I had the local chaps pop some Apex 5 shafts in, throw on some grips, and off I went with a brand-new set of nearly-20-year-old irons (at the time.)
I played with those up until I read Tom Wishon's book.  I have always been a club tinkerer, re-gripping clubs in different sizes, grinding things (a disaster, mainly), switching shafts, and playing (again, badly) with lead tape.  I loved the detail and logic of his book so much – finally I got answers and science!  – that I then promptly scampered out and got fitted properly by a local fitting ninja I found via the Wishon website. I'll be doing a post on my experience with clubfittings and why I found it so very very helpful.
In terms shaft selection, for the Mizunos I chose the Dynamic Gold Sensicore for the vibration reduction, in X100 flex. I love them and they work for me. If I were a Tour Pro, I could spend days on the range with a launch monitor and four guys with pocket protectors and clipboards and racks of clubs while one of my minions placed each ball for me just so and hit dozens of different shafts and figure out the absolute optimal choice. Sadly, I am not a Tour Pro.
I switched to extra-stiff shafts (first the Apex 5 and now the X100) to hit the ball straighter, even though it does cost me some distance versus a more flexible shaft like an S300. I will happily sacrifice distance for accuracy in irons. I hit a normal 7-iron 165 yards, which is plenty far enough.  Hitting my irons farther just leaves me with a bigger and bigger "no-man's" land into the green where I have to hit partial shots. I don't like partial shots.  I don't need or want to hit a pitching wedge 150 yards like I used to.  (Stay tuned for a piece I have in the queue on loft inflation in irons.  Very edgy, controversial stuff to come here on CG.)
I chose the white Golf Pride grips, they're standard .600 round, but I did have them mounted label down just to minimize that particular distraction. If you've ever played with a crooked label grip, you know what I mean. I used to do my own regripping, so I may be overly familiar with this flaw.
In the end, one of the best parts of getting the new clubs was when I brought them to the Dominican Republic for a tournament I had been invited to play in. This was in March, so it was the first time I had hit a ball in six months, and the first time I had hit any of the new clubs. My playing partner met me on the range before the first round, and I proceeded to take all the plastic wrap off each individual club.  It was like opening nine awesome birthday presents.  His commentary was highly entertaining (as it generally is). I have been playing them ever since.
Up next in this Series: Wedges.  Or maybe woods.
Photo source: Custom Grinds